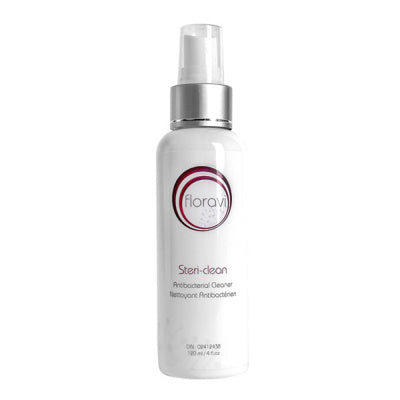 Floravi - Steri-Clean - Antibacterial Cleaner
---
In stock, ready to ship

Inventory on the way
Approved by Health-Canada, Steri-Clean is an antiseptic cleaner for the skin and for personal objects which kills bacteria and damaging germs.Why use Steri-Clean ?- To clean intimate products :Easy to use and hypoallergenic, Steri-Clean is essential because it is important, for sexual health, to clean erotic accessories before and after use. Dust, bacteria or other contaminants may cause problems if they are in contact with female genitals. Thus, any object in contact with genitals must be properly cleaned with Steri-Clean, which is designed to remove any elements that may be harmful to sexual health.- To clean women's genitals : Containing no alcohol, Steri-Clean is ideal to gently clean female external genitalia, while helping to eliminate bad odors.* Important note: Steri-Clean must be used for external genital area only, just like soap.When to use Steri-Clean? It is important to clean your intimate products before and after each use. As it is easy to use, Steri-Clean fits well in your routine. How to use Steri-Clean ?To properly clean your intimate product, simply spray the cleaner on it; making sure the entire surface is covered. Thereafter, wait about a minute and then rinse it under water. If necessary, wipe it with a clean fabric.
Medicinal ingredient : Chlorhexidine gluconate 2.0 %
Non-medicinal ingredients : Purified Water, Glycerin, poly (sorbate) 20, phenoxyethanol, (p)-hydroxybenzoate methyl
Steri-Clean doesn't contain alcohol nor silicone so it can be used on all Floravi products as well as all types of materials : silicone, latex, rubber, plastic, glass, etc.
Cleans quickly and efficiently all types of intimate products.
We offer discreet delivery of our products directly to your home within 5 to 10 working days.